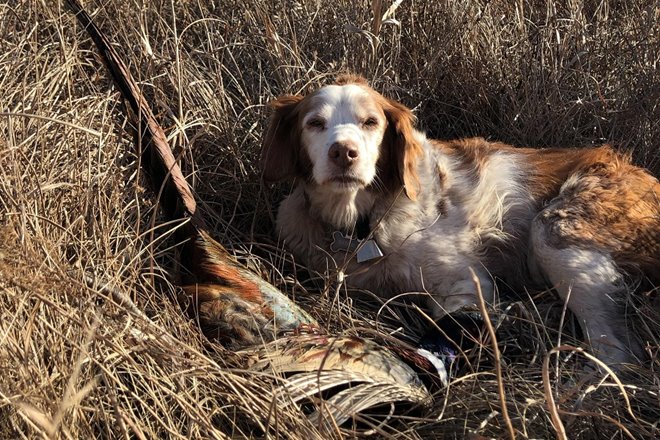 In another installment of our Old Bird Dogs series, a Brittany nearing 14 gets -- and gives -- some special gifts, still doing what she was born to do
By Tom Carpenter
My little Brittany is old. My little Brittany is a pheasant dog.
She used to have that classic Brittany white stripe between two orange-wrapped eyes. Now you can only see the grayed shadows of those goggles.
But she still has a nose. And legs. And desire.
She was born to hunt pheasants. She is a gift.
That's why I was feeling pretty antsy about getting Rascal a classic point on a rooster this fall. Lord knows we'd been enough places and hunted enough birds, as usual, out in the Big Wide Open of the Northern Plains.
But we had yet to get that locked-in, nail-em-dead-to-rights point. Did I tell you my pheasant dog is almost 14? She'd been in on a lot of birds all season, to be sure, and pointed some hens. I missed one rooster she cornered, and that was nagging at me too: not holding up my end of the deal.
At her age, any hunt can be a dog's last.
She used to hunt all day.
All
day. Now her jaunts are mostly limited to an hour or so: one in the morning and one during the golden hour. And we wanted that bird. That one perfect bird. I know my dog well enough -- my hunting-partner and everything-partner for a quarter of my life -- that we were one in that desire. And the season was getting on.
So it was that I pulled out an ace-in-the-hole on a December Friday afternoon and called my friend Don, who owns a substantial spread of grass, much of it in CREP.
"Ya, bring Rascal out to hunt," my friend laughed. "If I was you I'd hunt around my pine strip on the west side. That's nice cover for Rascal to hunt. There have been birds hanging around there all fall. They were carrying on there during deer season."
So it was on that in an October-ish Saturday morning in December I unloaded my little Brittany at 9:00 a.m. shooting time. Like a dog half her age in the cool air, she began coursing the grass toward the distant line of pines -- western Minnesota nomenclature for cedars.
We worked through the short trees themselves, journeyed down one side and up the other and then out and about, spreading across the grasslands and taking multiple swings.
I thought we were getting to Rascal's physical limit after two hours of scouring the prairie. I tried to turn back. She wouldn't have it. So we kept going – along a fenceline toward yonder wetland, getting farther and farther away from the vehicle with each step.
My pheasant dog was in her glory.
We took our time. We have always gone slow. We swung past plum thickets, through a willow tangle, along the top edge of a big slough in light grass, then down the small slope and back along a magic edge (that today was not so magic) where grass and cattails blended.
We were far from the vehicle. It was noon. My almost-14-year-old dog had been hunting for three hours but showed no quit. We stopped for a short rest near a clear, unfrozen pool where minnows swam, and my dog stepped for a drink and a dip. I shed a layer of clothes and stuffed it in my vest.
Rascal probably knew our path was back toward the vehicle. She didn't object. She was tired now.
A half hour later we were on the home stretch. Rascal was doing her best to course the light grass on the edge of the swale we walked, the pines off to our left. My dog probably wouldn't be hunting the golden hour later. No matter. We'd stolen and shared a glorious, blue-skied December morning on the prairie.
And then she locked on point. Just like that. Fifteen yards in front of me. In the knee-high grass. The kind of place you'd find a lounging October bird soaking up the midday sun.
Please let this bird be a rooster. Please don't let me miss. There's no breeze so it has to be almighty close. Geez what's it doing out here? And oh please don't let me miss. I'm going to go in off her left …
It takes longer to tell these things than to think them as I walked in and kicked around. Nothing. My dog stood rock solid. I kept working. My dog does not lie. This was no "bus stop point," as I like to fashion the casual pauses that have always been her style when a bird is in the area but moving.
Kyuk-Kyuk-Kyuk-Kyuk
…. my shotgun swung as the long-tailed pheasant launched in a glory of color and a flurry of wings. My usual warm-up shot flew errant, bit the rooster folded in a heap on the second shot, and I will never forget the feeling as both dog and I hurried over, as is our style for all these seasons now, to find the bird but he was down for the count and my little Brittany pounced like a puppy again.
We did it. We sat down in the prairie grass, admiring the rooster carefully laid out, my dog starting to snooze in the warm sun and my heart flying.
And that could have been that. But our day wasn't over. Back at the converted milkhouse that serves as deer-duck-dove-pheasant camp on this former dairy farm now in grass, I shared a sandwich with my dog and watched some college football, happy, as she slept.
It could have been a day.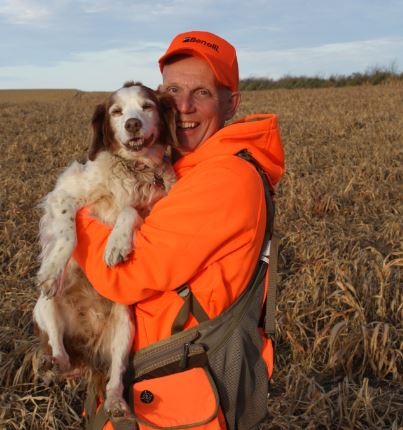 But December days are exceedingly short. After an hour or so, it was getting on toward the golden hour. I was here. Why not? I tried to sneak out for a little swing alone. But my tired, sleeping dog raised an eye and jumped off the old musty couch. She was ready.
I drove her as close as I could. It was the same mile-long swale where we got the rooster this morning, but the other side. Cattails snaked along the bottom, and good grass butted up to them.
After a hundred yards, the birds had us pegged, flushing wild. I thought they would be sitting tighter, but it was so nice out that they weren't quite in the roosting cattail-grass edges yet.
So my dog and I sat down and waited 10 minutes. Surely some birds would work toward the cattail edge where they might sit tighter.
We had gone no more than a hundred more yards after starting up again when Rascal locked on point. I walked in again, kicking around. Nothing. I kept working. She kept pointing.
Kyuk-kyuk-kyuk-kyuk
– the bird rocketed up behind me and I did a quick two-step, swung, touched off and saw the bird tumble … right into the cattails. At almost sunset. With a tired old dog at my side.
I ran out to where I practically knew the bird fell, busting through the softened ice a couple times, and stood and looked, whistling for my hard-of-hearing dog. She finally found me. "Bird down!"
You need to know that my pheasant dog is not a retriever. She scratched that clause from our contract way back when. But she is a finder, pointer and waiter. We lose few pheasants. I was worried about this one though, alone with my old dog in the sunset far out on the prairie on a lonely and quiet December evening.
After ten minutes of both of us looking, I decided maybe I had come too far into the cattails, and we walked a line back toward where I had shot from.
And she locked on point. I dug around in the cattails. She rolled her eyes to look at me.
"Get it!"
She released and pointed again, five feet ahead. I reached in and pulled out the rooster – a very dead longtail of epic proportions. Once again my old dog pranced and yipped like a new puppy. Who wouldn't, out there doing what they were born to do?
So it was that we walked out with a second rooster – the glow of orange sunset to the west, the yellow moon rising to the east, the glinting stars aligned perfectly above, a rooster in hand, and my beautiful dog of almost 14 at my side.
Gifts all.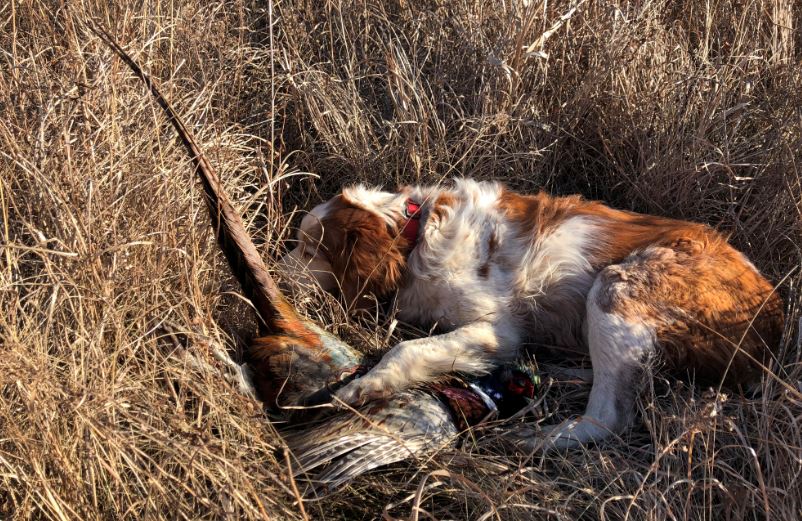 Tom Carpenter is Digital Content Manager for Pheasants Forever.